December, 16th, Wednesday, 2015
Founded by Dr. Roselyn Du at Hong Kong Baptist University, the Data & News Society kicked off its inaugural colloquium on Dec.16 (Wed), 2015. Attendees included some of its members (teachers from Dept. of Computer Science, Math & CHTL and Ph.D students), as well as general public interested in the subject. Since the very start of its establishment, the Society has been well recognized and supported by a wide array of academic and professional resources. Prof. Huang Yu, Dean of the School of Communication and Dr. Alice Lee, head of Department of Journalism showed their generous support by giving opening remarks at the colloquium.
The core topic on the agenda was "Pushing the Limits of Journalism with Technology" by Pili Hu, Data Scientist at Initium Media and Director of Initium Lab. In his talk, he first showed some recent research and data products being conducted at Initium Media: Legco & Disco. With this project, he explained the essential factors involved in the production of data journalism, including data, source, and workflow, and shared the brief idea of what makes wonderful projects. Beside the discussion on data, he then presented to the audience some of the highly creative and innovative journalism products in which technology played a conducive and irreplaceable role. The "SmartPaper" would be an excellent example here (see below). Use your cell phone to scan the graph and the results will instantly jump out on a smartphone!
Perhaps for beginners and the general audience, the most useful takeaway from his talk would be a comprehensive list of practical data journalism tools curated by Initium Lab:
Pili ended his talk with an anecdotal part of the journey from being a geeky tech guy into the dazzling world of media and journalism, which was both emotionally and intellectually engaging.After Pili's talk, there came the students' data journalism projects sharing session. The students have done their term projects at Dr. Roselyn Du's data journalism class and the results received have been pretty impressive.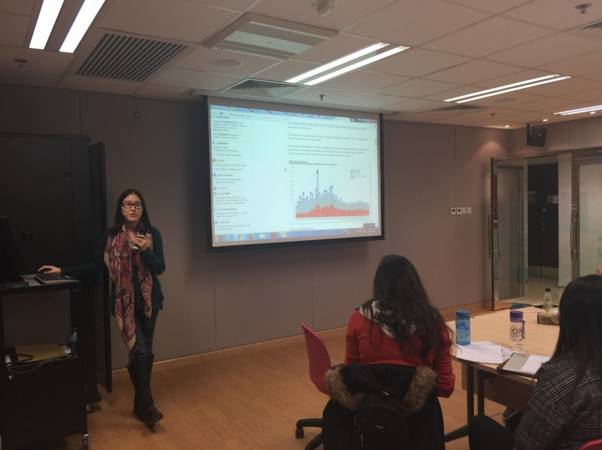 Here are the students' projects showed at colloquium: